FILMS
Station
(en production)
-
Une nuit d'été, dans une zone en friche. Certains s'activent et, tendant l'oreille, cherchent un contact venu d'ailleurs. D'autres sont les garants du bon fonctionnement de la zone. D'autres encore cherchent à comprendre ce que font tous ces gens et dans quel genre d'endroit ils viennent d'arriver. Qu'on en parle, qu'on l'écoute ou qu'on l'arpente, qu'on la connaisse ou la découvre, la zone est en tout cas l'endroit de leur attention commune.
écrit par Nicolas Doutey / production : Backyard / avec : Pauline Belle, Rodolphe Congé, Pierre-Félix Gravière, Sonia Pavlik, Julia Perazzini, Kyoko Takenaka, Gaëtan Vourc'h, et les élèves du lycée agricole Gilbert-Martin, Le Neubourg (27) / image : Victor Zebo, Laure-Amélie Vilanova / son : Jules Valeur / Montage son & mixage : Romain Ozanne / Etalonnage : François Miens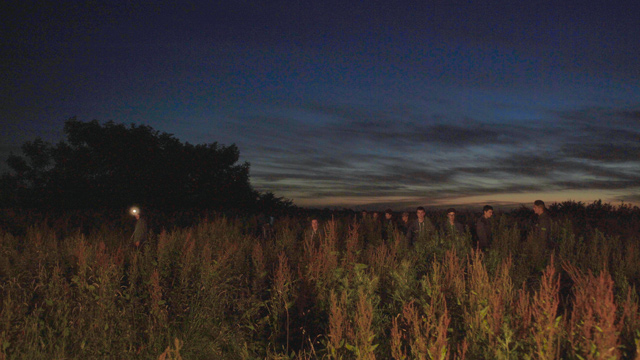 Diana
48', 2017.
Diana is a gallery of portraits of amateurs. Some talk to birds, some to ghosts, and some stack radios and stand up antennas to contact each other around the globe. All of them keep an ear out, listening to the noise of the world.
Diana est une galerie de portraits d'amateurs. Certains parlent aux oiseaux, d'autres aux fantômes, d'autres encore empilent des radios et dressent des antennes pour se contacter aux quatre coins du globe. Les uns comme les autres tendent leurs oreilles à l'écoute des bruits du monde.
image: Tommy Davis, Laetitia Striffling, Victor Zebo / production: red shoes (F), TDRand (USA) / mix: Romain Ozanne / colorgrade: François Miens / graphic design: Villa Böhnke.
Screenings:

Visions du Réel 2017, Nyon, CH (international competition) / FID 2017, Marseille, F (EP "Ah la musique!") / Fidocs 2017, Santiago, RCH.
Collection Fond national d'art contemporain.
Dreamland
28', 2013
On november 10, 2012, ten musicians enter a studio. They set up their equipment, plug the microphones, do the soundcheck, eat, drink, and fall asleep. During the night, one of the musicians has a dream. At dawn, he tells it to the others. they have to perform and record this dream, up to the dusk.
Le 10 novembre 2012, une dizaine de musiciens rentrent dans un studio. Ils installent leur matériel, branchent les micros, font les balances, mangent, boivent et s'endorment. L'un des musiciens fait un rêve. À l'aube, il le raconte aux autres. Ils ont jusqu'au coucher du soleil pour l'interpréter.
dreamland.simonripollhurier.com / commissioned by Bruno Latour for An Inquiry into Modes of Existence / Collection FRAC Réunion
Screenings:

Image Fragiles, La Box, La Réunion, 2016 / Alchemy Film Festival 2014, Hawick, Scotland.