« 10 January 1946, the antennae of Camp Evans emit a short signal with very great power towards the Moon. Barely than two seconds later, they capture a slight echo. It was the first success for Project Diana, two years after its launch. Giving form(s) — in all the possible ways that this expression may carry — to what is invisible is at the heart of Simon Ripoll-Hurier's practice. From amateur radio clubs to ghost hunters, from birdwatchers to the drums that could send signals on battle fields, the challenge is to successfully establish contact with a distant, absent being, by using much more mysterious means than those inhabiting our daily lives. Thus the machine appears in diverse forms, the test is probably more linked to the immaterial, to the silence or to the background noises that constantly disturb the efforts and attempts. In Switzerland, French Guiana or New Jersey, the director questions and frames carefully these elusive, perhaps despite themselves, poetic and at time quirky inquiries. » (Emilie Bujès)

« Over a black backdrop, the sound of fifes and drums gives rhythm to an inaudible conversation whose subtitles are the only remnants. Then emerges the figure of Hermes, the messenger, the guide. Here Diana is a morning drum-line, a goddess, a young girl, and also an ape. The film riddles with sounds that take the place of the expected signal. Small groups of radio-amateurs are busy settling their listening posts, waiting for a strange wave. » (Gilles Grand)

Diana is a research including a film, a radio piece, a performance, videos and various situations.

« Le 10 janvier 1946, les antennes du Camp Evans émettent à très grande puissance un court signal en direction de la Lune. Un peu plus de deux secondes plus tard, elles captent un léger écho. C'est le premier succès du Project Diana, deux années après son lancement. Donner forme(s) – dans tous les sens que ce terme peut embrasser – à ce qui est invisible est au coeur de la pratique de Simon Ripoll-Hurier. Des clubs de radioamateurs aux chasseurs de fantômes, en passant par les observateurs d'oiseaux ou les tambours qui permettaient d'envoyer des signaux des champs de bataille, l'enjeu est ici de parvenir à établir un contact avec un être distant, absent, en ayant recours à des modes largement plus mystérieux que ceux habitant notre quotidien. Ainsi, si la machine apparaît sous diverses formes, sans doute l'enjeu est-il bien davantage lié à l'immatériel, au silence ou aux bruits de fond qui sans cesse viennent troubler les efforts et tentatives. En Suisse, Guyane ou dans le New Jersey, le cinéaste interroge et cadre avec rigueur des quêtes insaisissables, poétiques – peut-être malgré elles –, parfois cocasses. » (Emilie Bujès)

« Lancé sur fond noir par des fifres et des tambours rythmant une conversation imperceptible dont ne persistent que les sous-titres, le film laisse émerger la figure d'Hermès, le messager, le guide. La Diane est une batterie de tambour du matin, une déesse, une jeune fille et aussi, un grand singe. Le film fourmille de sonorités se substituant au signal attendu. Par petits groupes, des amateurs s'activent pour mettre en place leur poste d'écoute, guettant une onde insolite. » (Gilles Grand)

Diana est une recherche qui inclut un film, une pièce radiophonique, une performance, des vidéos et différentes situations.




FILM
48', 2017, production: red shoes (F), TDRand (USA).
image: Tommy Davis, Laetitia Striffling, Victor Zebo / mix: Romain Ozanne / colorgrade: François Miens / graphic design: Villa Böhnke.
Screenings:

Visions du Réel 2017, Nyon, CH (international competition) / FID 2017, Marseille, F (EP "Ah la musique!") / Fidocs 2017, Santiago, RCH.
Collection Fond national d'art contemporain.
RADIO
57', 2017.
Réalisation : Gilles Mardirossian / Mixage : Manuel Couturier / avec Sophie Houdart, Laurent Haas, Steven Lefkowitz.
Diffusion:

Creation on air, France culture, 20 sept. 2017
Seek you worldwide
13'35", 2017.
During an 48h long international amateur radio contest, a group of radio hams in French Guiana tries to contact as many stations as possible.
à l'occasion d'une compétition internationale de radioamateurisme, un groupe d'opérateurs en Guyane Française tente de contacter autant de stations que possible.
image: Victor Zebo / with Laurent F6FVY, Didier FY5FY, Hervé F5HRY, Marc F1HAR, Christian F5UII from the Radio Amateur Club de Kourou
The Silent Keys
17'47", 2015.
A group of paranormal investigators tries to contact some spirits in the basement of Camp Evans, NJ.
Un groupe de chasseurs de fantômes tente de contacter des esprits dans les sous-sols du Camp Evans, NJ.
image: Tommy Davis
Losing the bird
video, 11', 2015.
Two birders from Alabama try to attract birds by mimicking their calls.
Deux birders d'Alabama tentent d'attirer des oiseaux en imitant leurs chants.
image: Tommy Davis / with Kenneth and Rufina Ward from the North Alabama Birdwatchers Society / Diana [2015.08.05]
Diana [2015.03.15]
7'43", silent, 2015.
image: Laetitia Striffling.
Diana [2015.02.18]
13'08", 2015.
A noise gig in a bungalow under a radio telescope.
Un concert de noise dans un algeco sous un radiotélescope.
image: Laetitia Striffling / music: PAL (Boris Geoffroy, Hugo Lemaire, Antony Lille) / listen here: palssounds.bandcamp.com
Diana [2014.12.13]
7', 2015.
image: Laetitia Striffling
Diana [2014.10.21]
6', 2015.
image: Laetitia Striffling
THE TEMPORARY TELECOMMUNICATION UNION
Evolutive performance for 3 screens, 6 speakers, and 12 performers, about music, telecommunication, interferences and background noise.
Une performance pour 3 écran, 6 enceintes et 12 performers, à propos de musique, de télécommunication, d'interférences et de bruit de fond.
Dates:

Théâtre de l'Usine / Forde, Geneva (2016.04.16) ; Ujazdowski Castle, Warsaw (2016.07.30) ; Greylight, Brussels (2017.05.27)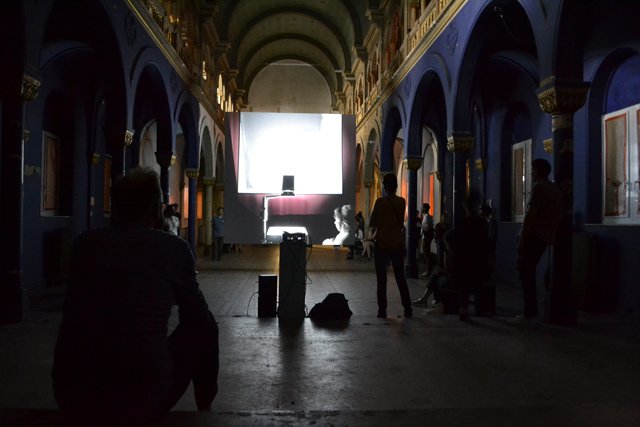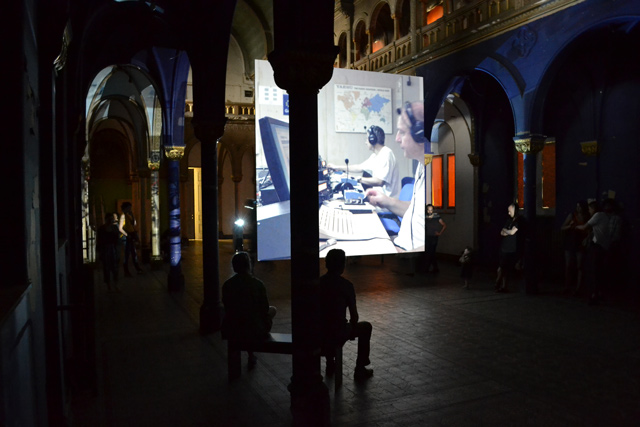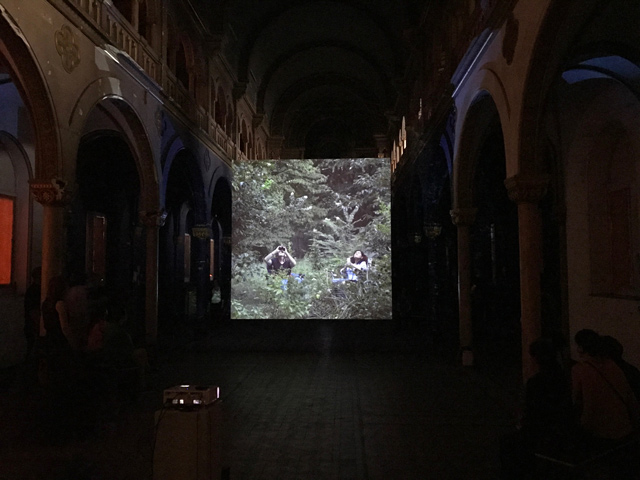 Greylight, Brussels, 2017 (images: Amélie Bouvier)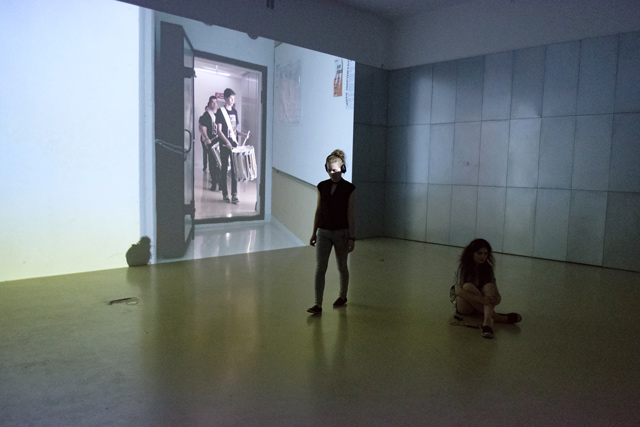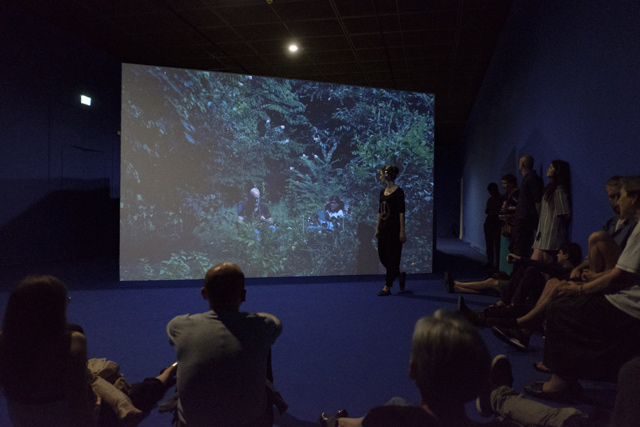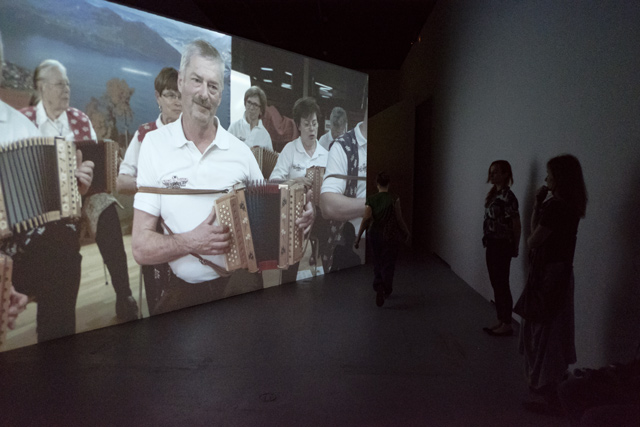 Ujazdowski Castle, Warsaw, 2016 (images: Bartosz Górka)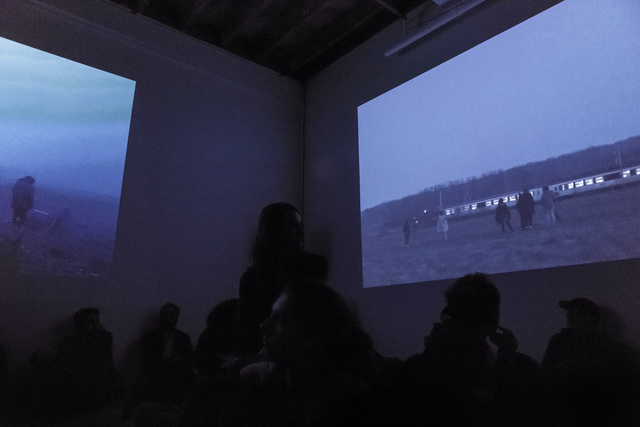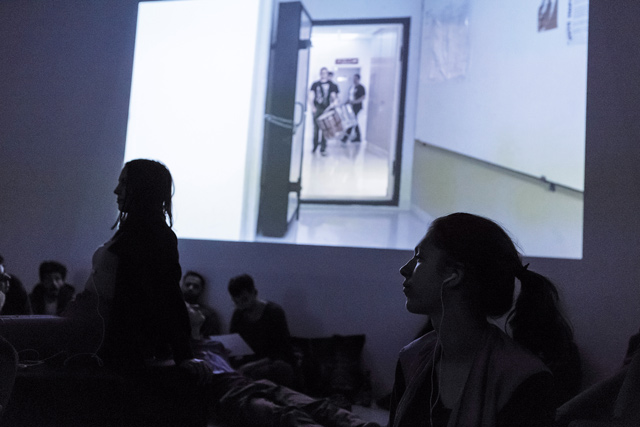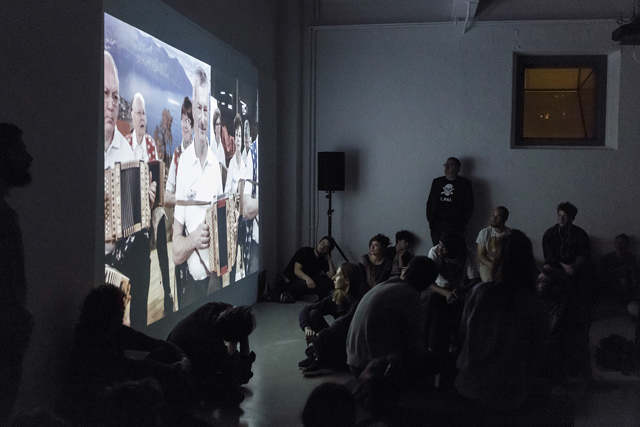 Théâtre de l'Usine / Forde, Geneva, 2016 (images: Emmanuelle Bayard)
Diana [16.06.2015]
They set the camp in the evening of June 16th, 2015, near the Laffrey Lake in the Alps, and start operating at 00:00. The Moon is new and they will take turn at the 4 stations until 6AM.
Ils installent le campement dans la soirée du 16 juin 2015 aux abords du Lac de Laffrey dans les Alpes, et commencent à opérer à 00:00. C'est la nouvelle Lune et ils vont se relayer jusque 6h sur les quatre stations.
Station #2 - Parabolic microphone
avec Betty Biedermann, Martina Margini, Denis Morin, Théo Robine-Langlois, Chloé Sitzia, Robyn Wilton / Image: Sophie Lvoff / Produit par l'Ecole du Magasin - Session 24 (Betty Biedermann, Sophie Lvoff, Martina Margini, Théo Robine-Langlois, Asli Seven, Chloé Sitzia, dir. Estelle Nabeyrat) pour Take You There Radio.
Diana [04.09.2015]
In some Catskills' woods, a group of "transmission artists" gathers around a campfire. One after the other, they hold a microphone and tell stories about places related to (radio) transmissions.
Dans un bois des Catskills, un groupe d'artistes travaillant les ondes se rassemble autour d'un feu de camp. Les uns après les autres, ils tiennent le micro et racontent des histoires de transmissions (radio).
image: Tommy Davis / performance at
Wave Farm
, Acra, NY, with Jeff Economy, Maximilian Goldfarb, Galen Joseph Hunter, Franziska Lamprecht & Hajoe Moderegger, Zach Poff, Jess Puglisi, Echo Roe, Tom Roe / September 4, 2015.